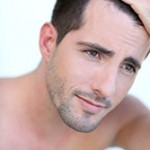 You might be considering wigs for men in Runcorn if you are embarrassed by the lack of hair on your head. Men's hair loss is a common phenomenon. Male baldness affects four out of every seven in the UK. This condition can affect men of all ages, starting from age sixteen to sixty. Male pattern baldness or androgenic alopecia, is the most common kind of hair loss. It affects around 6.5 million people in the UK. Losing your hair, especially large chunks of it, can lead to low self-esteem, depression, anxiety and even withdrawal. Hair loss is acutely felt by men during their teens and early twenties. The social pressure and stigma around having a full head of hair causes undue stress. If you are suffering from hair loss, what options do you have available?
In Runcorn, wigs for men provided by Crown n Glory is a popular solution to male hair loss.  This is a ready-made solution for a serious problem. Some men opt for expensive hair growth treatments but these tend to be ineffective and there is no assurance guaranteed. With a ready-made wig, you can choose a hair piece that is best suited for your face and look. Simply choose one, try it on and walk out the door. Crown n Glory stand by the quality of every hair piece they have in stock. The company stays ahead in the hair business because it sources only the finest products from around the globe.
Consider wigs for men in Runcorn at Crown n Glory if you suffer from male pattern baldness. They have similar options for females as well. The team at Crown n Glory are fully trained and experienced to help you find the best hair piece. A hair piece is an excellent solution for male baldness. For more information about wigs for men, contact Crown n Glory.