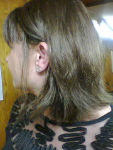 You might be looking for ladies wigs in Chester if you are experiencing hair loss. Or you might have decided that you would love a full head of hair. Nothing is stopping you from opting to buy a ladies wig. If your hair is thin and no number of hair treatments make any difference, a wig could be the ideal solution. Perhaps you have always fancied being raven haired or a fiery redhead? Now you can decide on the colour, style and length hair you want. The best part of a wig is that you don't need to have an expensive dye treatment in order to change the colour of your hair. Simply wear the wig of your choice for the day.
In Chester, ladies wigs of a large variety and style are available at Crown n Glory, a prestigious and well known hair salon. Crown n Glory has been in operation for over 40 years and the family-run business has provided many hair care solutions to many people. Why not arrange an appointment with the skilled staff of Crown n Glory. The initial consultation is free. They know how to match facial shapes and shades with the right wigs.
Crown n Glory is proud of their ladies wigs in Chester. Choose a hairpiece that you can wear confidently, and enjoy the poise that comes with having beautiful hair. There is a wide variety from which to choose in the latest styles and colours, including wigs made from the best quality european or remy hair.  Crown n Glory will see to it that the wig you choose is correctly fitted. They also offer a full after sales service to all their clients. And should it be necessary, a repair and maintenance service also available. Boost your self-confidence and visit Crown n Glory to choose a ladies wig – you will be pleased you did. For more information, or advice about ladies wigs, contact Crown n glory.