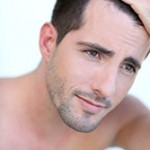 Hair loss solutions in Childwall can help stop, treat, and manage alopecia, a general term for hair loss. Alopecia affects both men and women. Even young children are affected by it. It is estimated that each of us loses 100 strands of hair every day, but with alopecia, an individual may lose significantly more and at the same time experience slower than normal hair growth. The damage of alopecia is not limited to hair loss, it can also affect your self-esteem and confidence and can cause depression. You don't need to live with hair loss. There are many hair loss solutions available, and if you choose the right expert, you can find one which works best for you.
In Childwall, hair loss solutions are offered by Crown n Glory, a salon that provides high-quality products and service. While being diagnosed with alopecia can be disconcerting, there's no reason why you must live with hair loss. Crown n Glory has a team of highly experienced and talented hair experts who can offer you a range of hair loss solutions. Contact Crown n Glory for a free initial consultation, held in a private consulting room where you can have a frank discussion with a hair loss expert. Crown n Glory deals in both male and female alopecia. They have a stock of top quality readymade human hair and synthetic wigs. You can also purchase integration units to add volume to your existing hair. What's more, they also offer an excellent styling and colouring service as well as custom-made extensions.
If you are looking for hair loss solutions in Childwall, you don't need to look further than Crown n Glory. They have 40 years of experience in treating and managing hair loss, employ some of the best hair loss experts, and use only the very best hair loss products. Don't live with hair loss, it is manageable and the solution is just one appointment away. For more details about hair loss solutions, contact Crown n Glory.