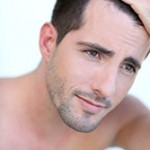 If you're a beard-averse man, you'd probably like to know more about the services that a wet shave barber in Liverpool has on offer. Wet shaving is the traditional, and some swear, the most effective method of eliminating hair on the face. It also gives a fresh and clean look, exfoliates dead skin and keeps the skin tone softer and more elastic. The traditional method starts with soaking the area in warm water and applying soap, foam or gel evenly all over. This helps the razor to run smoothly over the surface. The next step is to use a safety razor, or a traditional barber's razor in short, even strokes to remove the hair. The area is then washed and dried, and a moisturizer or after-shave product is applied. People with heavy facial hair growth may require more than one round of shaving.
For many gentlemen in Liverpool, wet shave barbers have become extremely popular these days, as the whole experience is both relaxing and soothing. One of the biggest advantages of wet shaving is that it gives a really close shave, leaving the skin soft and supple. Since the hair is soaked in water and the gel or foam provides a smooth run for the razor blade, it becomes easier to cut at the closest possible level from the skin. Razors in wet shaving can be run on the most sensitive of skin and the process removes old and dead skin as well. Top quality barber services like Crown n Glory provide a range of attractive add-ons. These may include refreshing hot towels, a soothing ambiance, exfoliating face wash, and badger brushes for a complete male grooming experience.
Many wet shave barbers in Liverpool prefer to use badger brushes because they help to soften the skin and open the pores giving the smoothest and softest shave possible, resulting in a relaxing and pleasant experience that prepares you to face the day with confidence and energy. Why not contact Crown n Glory to find out what their wet shave barbers can offer? They have the right tools for the procedure and also employ trained and knowledgeable experts. With more and more men opting for salon services, the wet shave has become part of many unisex salons.