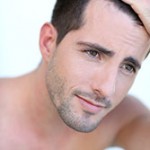 Visiting a wet shave barber in Formby is one of the most decadently delicious treats man can have. Pampering does not get much better than this. Men continually complain about having to shave every day. You can have someone shave you for a very reasonable price. We have introduced our new "Cunard" Package. This is in honour and memory of the sinking of the Lusitania 100 years ago in 1915. A 19 year old stoker survived the sinking even though he could not swim. He clung to wreckage until he was rescued. He married and had a son and then began a career as a barber. His son followed in his footsteps and became a barber on the Cunard line. This was our grandfather and it is in honour of him we have introduced the traditional wet shave and haircut.
When you are tired of doing your own grooming every morning in Formby, a wet shave barber will allow you to enjoy the start to your day. You can choose to have a dry haircut as well or you can have the full deluxe package with a shampoo and properly styled cut with your morning shave. Our father who started our business cut and shaved many of the rich and famous in his time. We aspire to keep the tradition alive by making sure you get the very best treatment from us at all times.
Wet shave barber in Formby is a wonderful treat. Contact Crown n Glory to book an appointment for the "Cunard" package. The shave will have you relaxed and feeling clean and polished. Anyone can experience what it was like in the old days when men went to the barber for a shave and a spruce up. This male grooming experience is truly one to be enjoyed. Ladies this is a way to pamper your man. He will be impressed at your thoughtfulness and spoiling. Expect flowers in return.