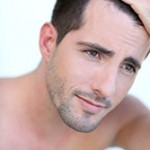 If you are suffering from hair loss due to an illness or other and are looking for hair loss solutions in Wirral, we at Crown n Glory have the perfect solution. Our family run business has been supplying private clients and NHS patients for many years, as we have over 40 years experience in the industry. With equal frequency both men and women experience androgenetic alopecia, although in women may be camouflaged a lot better. Men experience gradual thinning which most often affects the frontal areas and the crown and the hairline regresses around the temples. All types of hair loss are dealt with in our private consultation rooms of which all initial consultations are free of charge. We stock ready made human and synthetic wigs and hair pieces and offer a full custom made service using top quality remy or European hair.
In Wirral, hair loss solutions are available if you are experiencing difficulties with the psychological impact of losing your hair. Women in particular can experience a severe impact, since there is little acceptance or understanding of the condition. Both men and women can experience difficulties with feeling unattractive or low self esteem. Our hands on approach to solving your hair loss is providing wigs or hair pieces that will increase your confidence when worn daily. Our expert team at Crown n Glory will tailor you with the right hair solution inline with your specific needs, by providing high quality natural looking products that are fully endorsed by the NHS.
Ready made hair loss solutions in Wirral provided by Crown n Glory are inexpensive alternatives as opposed to other types of treatments in the form of quality assured wigs or hair pieces that will once again give you confidence. We can provide you with peace of mind as our team constantly sources top brand hair pieces and wigs from around the world that are the ideal solution to male and female baldness. We also provide a comprehensive male grooming experience in the form of the Cunard Package that has drawn inspiration through the history of our company. Contact Crown n Glory, and we will be happy to provide you with hair loss solutions.