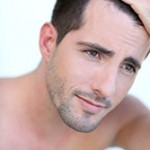 When you are looking for perfectly fitting hair toupees in Formby, Crown n Glory is the supplier for you. The company has over 40 years of experience providing services to both private clients and NHS patients. Your first consultation will be free, and the company can tackle all types of hair loss, scalp disorders, EG, male pattern baldness, Alopecia and trichotillomania. When it comes to products, Crown n Glory holds a stock of human hair and synthetic pieces and hair wigs. You can also find integration units which are meant to be integrated into existing hair, for volume or coverage. In case you do not find something you like in stock, you can take advantage of the company's custom-made service which uses both Remy and European hair.
In Formby, hair toupees can also benefit from repair and maintenance at Crown n Glory. You also have a full colouring and styling service and a full after sale service available. With baldness affecting over half of the male population in the UK from the teenagers to men in their sixties, it's easy to see why Crown n Glory has a series of products targeting men. Baldness can cause lack of self-esteem and self-confidence, with some cases driving men to depression. However, with good treatment or a toupee, the social stigma and stress caused by baldness can be removed, and a youthful outlook can be regained.
The hair toupees in Formby, which are available from Crown n Glory, are a great way to instill confidence. Made using only the finest materials from around the world, these toupees from leading brands have helped solve an apparently unavoidable problem. And that's not all. If you drop by Crown n Glory, you can take advantage of a traditional barber experience by ordering the Cunard package a traditional wet shave, shampoo and haircut, for a full suite of manliness restoring services. To find out more about the available hair toupees, contact Crown n Glory today.